Join the LIVE STREAMING of the 2nd Academic Memorial Lecture of King Sabata Dalindyebo.
November 25 at 18:00 on Youtube: https://youtu.be/f-wNfHrjqAg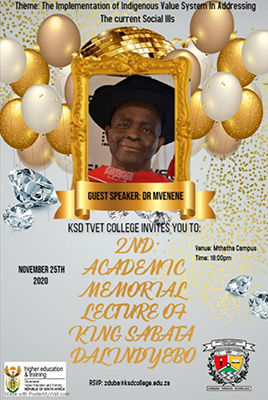 TVET is an abbreviation for Technical and Vocational Education and Training. TVET previously known as FET Colleges, offer a wide range of courses and training programmes that have been developed to respond to the scarce skills needed by employers.
Studying at KSD TVET College will equip you with the skills you need to find employment in South Africa.
King Sabata Dalindyebo TVET College is located in the Eastern Region of the Eastern Cape Province in the O.R. Tambo District Municipality. It is strategically positioned to serve the most rural areas of the Eastern and Northern Regions of the Eastern Cape Province in three District Municipalities (O.R. Tambo, Amathole and Chris Hani District). King Sabata Dalindyebo TVET College serves 28% of the Eastern Cape population. This region contains the highest concentration of unemployed young people.